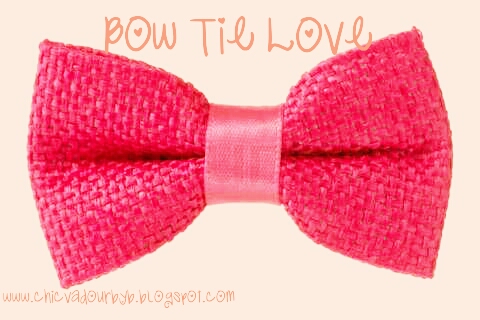 Ever since I saw a photo on tumblr of a girl posing in a leopard bow, I've become addicted!
Bow ties add just the flair of "girly-ness" and the "so sweet but I'm daring" look.
I recently bought one from Claries. Now that I'm starting the new year with new things, I decided to do a post on bow ties.
They can get really expensive. So I found a way to make your own in many different colors when on a budget!
What You'll Need
Super Glue (gun)
Fabrics of your choice
Scissors
A bow clip
Table
First Step:
Get the fabric you want for your bow. And lay it out on the table.
Second Step:
Fold it 3 times downward. Creating a rectangular shape.
Third Step :
Cut the end. If it's too long
Fourth Step :
Fold one side in and fold the other side in .
Fifth Step :
Now pinch it together in the middle.
Sixth Step :
Glue the parts that are pinch so that it stays together.
Seventh Step :
Let it dry for about 5-10 minutes.
Eighth Step :
Now cut a small rectangle piece of the same fabric and wrap it around the bow in the center.Glue it onto the bow at the ends of the rectangle piece you just cut.
Ninth Step :
Now get the clip.Glue the bow clip onto the back.
YOU'VE JUST CREATED A BOW TIE!!!
simple. fun. glamours.
Check back later for ways I wear my handmade photos!
Thank you for reading as always ..
Stay Glamours!!